Expressing Elegent Artistic Emotions
Motivating students to learn different kinds of dances
Dance and Theatre Studios
The dance studio is built with wooden floorings to provide protective components on the floor for children while dancing. And also wall to ceiling mirrors help children to emulate their instructor during the lesson and improve their performance. The studio provides various forms of dances like classical, western, and folk while providing the perfect opportunity for children to express themselves and fulfill the desires of their hearts.
   Classical Dance
    Western Dance
We provide our all young artists a platform to showcase their talent and skills. We appreciate all forms of arts - singing, dancing, acting, drumming, or martial arts. Every child's creative talent is identified and nurtured. This event is a great way to help them overcome their stage fright, boost their confidence, and motivates them to build their interest.
Games and sports are an integral part of our school's curriculum. Playing helps children to stay physically fit and be mentally alert. Our school has a massive campus with huge playgrounds, courts, and swimming pools that can host international tournaments and competitions. We have an impressive Cricket pitch, Basketball court, Lawn Tennis court, Athletic track, and numerous sports options to provide ample opportunities to people of all age groups to actively participate in Khelo Telangana at District, State, and National level. This helps the young players to experience the joy of sports.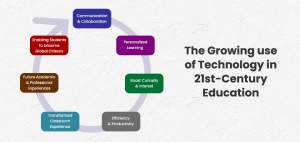 Technology can bring real value in teaching and learning to the classroom. The challenges in the 21st century are both developing and using such technology. Never has this been more apparent and necessary during the past year or so. The Covid-19 pandemic has demonstrated why online education should be a vital part of teaching and...