Rhythem and Lyrics In Sync
Providing a separate studio for students to make music
The music studio is smartly planned considering the needs and demands of our budding artists. Our music room is well-equipped with a varied range of musical instruments to cater to the learning needs of western and Indian music, both vocal and instrumental. These rooms are carefully designed to promote sound quality and enhance the performance of the students.
   Instrumental Music
   Vocal Indian Music
Very Good School, teaching is concept based, kids are able to learn fast because content can change but the concept remains the same. Teachers are excellent they know about the strengths and weaknesses of each and every child. I wish the school will grow and flourish more and more in the future.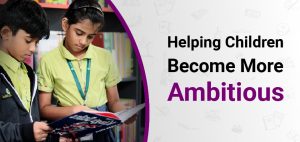 As parents, we always want what is best for our children and we also have their best interests at heart. We want our children to be motivated, curious, and eager to learn. We also want them to be ambitious because the amount of ambition that your children have, can determine their success in life.Some of...