Practicing like a Champion
Encouraging fair play, respect for opponents, and teamwork
"Champions keep playing till they get it right. -Billie Jean King"
This is truly our conviction. Sport is an integral part of our education system. It helps children to achieve medical fitness as well as gain academic integrity. It brings in learning of life and allows children to experience life beyond classrooms. It is yet another aspect of education that makes learning comprehensive. Through sports, we intent to inculcate in our students the importance of respecting opponents, the eminence of playing a fair game and value of hard work and determination.  Considering its countless benefits, Epistemo hones a huge campus that houses impressive Cricket pitch, Basketball court, Lawn Tennis court, Swimming pool and Athletic track to provide ample opportunities to children of all age groups to actively participate in games and experience the joy of sports.
Core values that Epistemo stresses on :
   Respect for opponents
   Indulge in a fair game
   Build team spirit
   Be humble in victory
   Be optimistic in defeat
Very Good School, teaching is concept based, kids are able to learn fast because content can change but the concept remains the same. Teachers are excellent they know about the strengths and weaknesses of each and every child. I wish the school will grow and flourish more and more in the future.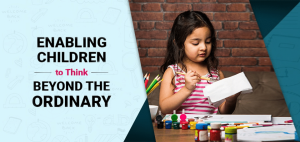 While learning using memory is a common way of teaching children in most schools, enabling children to think beyond the ordinary is not as common. However, it is imperative that children be taught to think creatively and beyond the ordinary, if they are to not only learn new skills but also apply them to everyday...