Learn, Work and Grow/Working and Learning In Action
Developing valuable life skills such as photography, the culinary arts and more
Epistemo Vikas Leadership School encourages students to develop life skills under work education. Various activities like Culinary arts, gadget geeks, threads and needles, textile designing, photography, movie making, decoupage, crafter's corner, and gardening are offered according to the learners' needs and availability of expertise.
These co-curricular activities form a part of the calendar during school hours throughout the year. Students have to choose one activity for an entire year.
These activities under the guidance of experienced people provide channels for creative thinking, act as energizing alternatives, and inculcate a positive attitude.
Weaving
Domestic appliances
Packing for a trip
Housekeeping
Mechanical devices
Butterfly breeding
Painting bargaining
Beading
Puppetry
Computer networking
Organizing skills
Traveling
Making detergent powder & other
Automobile garage
Etiquette and grooming
Make a telephone directory
Turning junk into treasure recycle / renew / reuse
Water auditing
Mending shoes, bags, belts etc
Farming
Online transactions
Time management
Energy auditing
Ticket booking – rail, road, air
Fix your meal chef
Domestic chores – sweeping, mopping & cleaning, etc
Petting zoo- caring
Event management - reviews of the articles
Photography
Vegetable carving
Carpentry
Traffic control
Budgeting
Videography
Nature walk scavenger hunt
First-aid
Experiments at home
Selling products on campus
Clean your room and make your bed
Very Good School, teaching is concept based, kids are able to learn fast because content can change but the concept remains the same. Teachers are excellent they know about the strengths and weaknesses of each and every child. I wish the school will grow and flourish more and more in the future.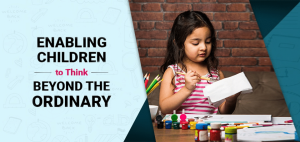 While learning using memory is a common way of teaching children in most schools, enabling children to think beyond the ordinary is not as common. However, it is imperative that children be taught to think creatively and beyond the ordinary, if they are to not only learn new skills but also apply them to everyday...