Promoting Outdoor Play
Providing huge playgrounds for different games
Outdoor play provides children with an opportunity to grow, learn and play. It stimulates their minds and provides for their cognitive and physical development. Creative outdoor space enhances learner's educational and social experiences. We strongly believe that the outdoor time spent by students is crucial, so it is important to provide them with an appealing and stimulating outdoor arena where they can play, learn and have fun.
Epistemo houses huge playgrounds with outstanding cricket pitch, athletic track, volleyball, throw ball, badminton and tennis court. Our outdoor spaces are creatively designed to enhance our student's social experience and help them relish, the pure joy of movement.
Objectives

:
To improve motor skills and achieve physical strength
To expand creativity and imagination
To sustain optimum health
Gain Independence
Learn to share, communicate and collaborate
Very Good School, teaching is concept based, kids are able to learn fast because content can change but the concept remains the same. Teachers are excellent they know about the strengths and weaknesses of each and every child. I wish the school will grow and flourish more and more in the future.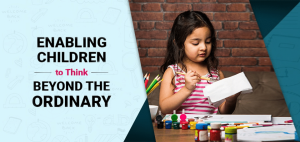 While learning using memory is a common way of teaching children in most schools, enabling children to think beyond the ordinary is not as common. However, it is imperative that children be taught to think creatively and beyond the ordinary, if they are to not only learn new skills but also apply them to everyday...