Encouraging Understanding Beyond Books
Setting up Labs for hands-on experience in Science, Math, and Language
"Labs are essential for students to gain first-hand experience in an observation."
Science Lab
Epistemo has full-sized labs with advanced and high-quality lab supplies and equipment to support studies related to Physics, Chemistry, Life Sciences and Environmental Sciences. Our science labs are developed to provide understanding beyond books and conventional classroom teaching. It helps students gain hands-on experience on these subjects and enhance learning by complementing theoretical aspects of science that are taught in the classroom. Science labs helps to provide children with a deeper and profound understanding of complex theories of science.
Math Lab
Epistemo has creatively planned its math lab that is well equipped with subject-specific learning kits, manipulatives, abacus kits, charts and games to enhance their power of reasoning, creativity, spatial thinking, critical thinking and problem-solving skills. Our learners are provided with an opportunity to explore, verify and validate the fundamental principles and concepts related to mathematics by practically doing it. We ensure that we make learning math interesting by striking a balance between virtual manipulatives and abstract so as to provide them with a know-how on the proper usage of their math toolbox through practical exploration and verification.
ICT & Language Labs
Epistemo integrates Information & Communication Technology (ICT) into the curriculum seamlessly through the Info Tech centres that have the latest hardware and software technology. In today's hi-tech world, we have embraced ICT to enhance digital literacy in our young learners and equip them with the knowledge they need to succeed in life. Through ICT, we have brought in an engaging, interactive and innovative way to fuel the imagination of our young learners.
Good communication is indispensable for the success of any student. Learning a language involves mastering its communication and includes the ability to listen carefully, comprehend it and respond to it in apt words with clear pronunciation. Considering this, we have formed language labs that are well equipped with audio and visual aids to help our students from multicultural backgrounds to gain proficiency in English, French and Spanish and have a brighter future.
Very Good School, teaching is concept based, kids are able to learn fast because content can change but the concept remains the same. Teachers are excellent they know about the strengths and weaknesses of each and every child. I wish the school will grow and flourish more and more in the future.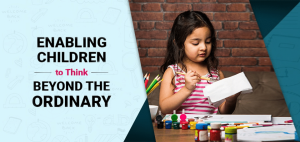 While learning using memory is a common way of teaching children in most schools, enabling children to think beyond the ordinary is not as common. However, it is imperative that children be taught to think creatively and beyond the ordinary, if they are to not only learn new skills but also apply them to everyday...