Sharpening the existing skills
Training our educators to deliver true value and excellence
Epistemo believes in effective professional development which enables educators to develop the knowledge and skills they need to address the students learning challenges.  Professional development is not effective unless it causes teachers to improve their instruction or causes the administrators to become better school leaders.
Our team of educators is thoroughly trained in:
Subject and grade-specific workshops
Hands-on teaching-learning activities
Thematic teaching
Making of worksheets to cater to different learning levels
Philosophy of the school
Identification of behavioral issues and learning difficulties among students
Activity-based learning
Problem-based learning
Graphic Organizers
Lesson Planning
STEAM Program
Technology-Aided Teaching
Multiple Intelligence
Summative

and

Formative Assessments

Differential teaching methodology
Language,

Theatre, and Communication

by Trinity of London

Collaborative Learning

Soft Skills, Etiquettes, and Grooming

Continuous Comprehensive Evaluation

Inquiry-Based Teaching

Positive Disciplining
Time Management
Bloom's Taxonomy
Concept Mapping
Team Spirit
Life Skills
Identifying different styles of learning VARK
Workshops:
Epistemo periodically trains its entire faculty with various latest teaching methodologies. In addition to organizing subject-specific seminars, run by industry experts, we also provide a platform to our own teachers to promote their presentation skills and train their colleagues.
Online Training:
We encourage our teachers to participate in innovative and certified online professional development workshops.
Guest lectures:
Epistemo has invited luminaries to motivate teachers to improve their teaching strategies and standards of global education and make them ready to propagate the 21st-century skills.
Very Good School, teaching is concept based, kids are able to learn fast because content can change but the concept remains the same. Teachers are excellent they know about the strengths and weaknesses of each and every child. I wish the school will grow and flourish more and more in the future.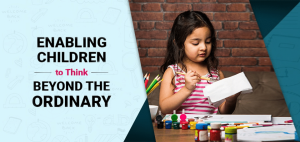 While learning using memory is a common way of teaching children in most schools, enabling children to think beyond the ordinary is not as common. However, it is imperative that children be taught to think creatively and beyond the ordinary, if they are to not only learn new skills but also apply them to everyday...