A True Visionary
A legendary leader who inspired thousands of students
Late Shri Koteswara Rao Surapaneni
Founder Chairman, Samaikya Educations Epistemo Vikas Leadership School
A legendary academician, visionary, mentor, and a leader who has inspired thousands of students with his unique insight and wisdom has played a prominent role in giving our society some of its most exceptional intellectuals. He set the foundation for the Vikas group of schools with a mission to achieve academic excellence. He believed that critical thinking is the key to learning and progress. He provided young learners with a new perspective to think critically and meet global challenges essential to achieve great success. His zeal to impart academic excellence made the Epistemo Vikas Leadership School is the most sought after destination for young learners.
Very Good School, teaching is concept based, kids are able to learn fast because content can change but the concept remains the same. Teachers are excellent they know about the strengths and weaknesses of each and every child. I wish the school will grow and flourish more and more in the future.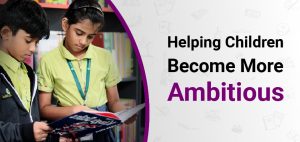 As parents, we always want what is best for our children and we also have their best interests at heart. We want our children to be motivated, curious, and eager to learn. We also want them to be ambitious because the amount of ambition that your children have, can determine their success in life.Some of...