Children are like flowers in the garden. They need to be carefully and lovingly nurtured to let them blossom and spread their unique fragrance.
At Pre-School, we believe in nurturing these young minds and help them flourish into holistic and beautiful beings.
Toddlers are inquisitive by nature and they develop their first liaison with initial complex learning at this stage. They have an innate quest for learning by doing things themselves. We cater to their inborn curiosity by providing them with an array of valuable experience in a safe and stimulating ambience.
Our curriculum is a unique blend of three internationally recognised programs - Montessori, Gardner and Froebel that caters to the enthusiasm of our little learners allowing them to engage in relevant and meaningful learning activities that can be connected to real life. Most of the learning is delivered on an individualised basis through a sequential and scientifically designed material that gives a multi-sensorial experience for their overall development.
Here children can develop their senses and learn through self-directed activities, collaborative play, spatial stimulation, and interactive puzzles. Through our well-planned and harmoniously integrated curriculum, we aim to achieve cognitive, physical, social, emotional development of our toddlers.
Our teaching methodology and deep immersive learning experiences result in our students being well-prepared to transition to Grade-1.
Cognitive development of the child
Social interaction
Fine motor skills
Gross motor skills
Identification of things
Oratory skills
Free/imaginative play
Social etiquettes
Learning self-care
Interaction with other Kids
I am very happy with Epistemo Vikas Leadership School, and I am proud that my child is part of this school. I would highly recommend it to anybody. Epistemo Vikas Leadership School gives support and solution at all time.
RECENT BLOG POSTS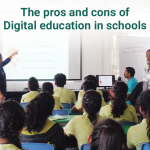 The pros and cons of Digital education in schools
Digital Education, the way forward? "Technology can never replace great teachers but technology in the hands of great teachers is
Strategies for Building a Productive and Positive Learning Environment
Schools that provide a positive learning environment for the students, enable the overall development of students, whether its academics, psychological
The role of teachers in shaping children as global leaders
The students of today are the leaders of tomorrow. Nothing can sum up the importance of a complete education system