Encouraging Different Activities
Promoting art, craft, music, and dance in well-equipped studios
Music and Dance Studios
Music and dance studios are smartly planned considering the needs and demands of our budding artists. Our music room is well-equipped with a varied range of musical instruments to cater to the learning needs of western and Indian music, both vocal and instrumental. These rooms are carefully designed to promote sound quality and enhance the performance of the students. The dance studios are built with wooden floorings to provide protective components on the floor for children while dancing. And also wall to ceiling mirrors help children to emulate their instructor during the lesson and improve their performance. The studio provides various forms of dances like classical, western and folk while providing the perfect opportunity for children to express themselves and fulfill the desires of their heart.
Art and Craft Studio
The Art and Craft Studio is aesthetically designed to give children access to all the art and craft supplies that would help them explore their artistic impulses and develop their creative style. The studio is well-organised with the special focus on art storage, drawers and counter space to offer art and craft lessons. This beautiful studio space inspires each child to make art, craft and tinker and let them go crazy with their imagination. It is a perfect platform to give children a quality, fun and creative experience that helps them to build an essential and desirable life skill to cherish all their life.
Very Good School, teaching is concept based, kids are able to learn fast because content can change but the concept remains the same. Teachers are excellent they know about the strengths and weaknesses of each and every child. I wish the school will grow and flourish more and more in the future.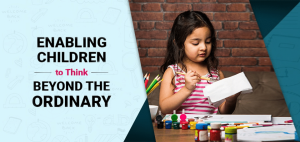 While learning using memory is a common way of teaching children in most schools, enabling children to think beyond the ordinary is not as common. However, it is imperative that children be taught to think creatively and beyond the ordinary, if they are to not only learn new skills but also apply them to everyday...