Balancing academic and other pursuits
Promoting skills such as ethics, critical thinking, and problem-solving
Epistemo Vikas Leadership School is proud to be one of the most prominent Global School to offer an encompassing interdisciplinary of Cambridge (IGCSE – International General Certificate of Secondary Education) and CBSE – Central Board of Secondary Education that balances academic rigor with the creative arts & sports while focusing on the life skills of adaptability, ethics, critical thinking, problem-solving and risk-taking.
In order to keep updated with the latest advancements in education, there is a need to bridge the gap between the two boards by interlocking the advantages of both CBSE and IGCSE. This provides the learners with the advantage of exploring the strategies and learning styles of IGCSE & CBSE. This also helps to accommodate the educational expectations of students coming from different parts of the world.
The versatility of curriculum combined with innovative teaching methodologies, experience, and expertise of our educators over the years stimulate the ability and conviction to discover the creative potential and intellectual talent of every learner by providing various learning opportunities to express themselves and thus fostering confidence and dynamism. This is in sync with our fundamental belief which drives all of us at Epistemo International School – Every child is a leader in his own way.
Earnest efforts have been made to strike a balance between academics and co-curricular activities to make the journey of schooling more exciting.
Every child is a leader in his own way, is what we strongly believe in, at Epistemo Vikas Leadership School. With this conviction, we make an unceasing effort to uncover the creative potential and intellectual talent in every learner. We provide them with numerous learning opportunities in an effort to bring out the best in them. Through our holistic education, we value critical thinking, social skills, character formation, and emotional development that aids them to become well-rounded individuals.
Cambridge curriculum is offered to students from Preprimary to Grade 7, while they get an option to choose between CBSE and IGCSE (International General Certificate of Secondary Education) in Grade 8.
The uniqueness of our curriculum is that it encourages children to develop informed curiosity. Students are encouraged to think freely, imagine without boundaries, and even go wrong. Because we believe that, ten small wrongs will lead to one significant right and it fosters thinking outside the box giving them a diverse perspective to tackle the task at hand. It infuses confidence, insightfulness, innovativeness, and passion for learning in our students. While school emphasizes academic excellence, we believe in the comprehensive growth of a child. At Epistemo, we earnestly strive to strike a balance between academics and co-curricular activities.
Epistemo Vikas Leadership School is a 21st-century global school that has adopted new age educational practices and contemporary teaching and learning programs to blend creativity and lateral thought process to keep the cycle of thought process running and to keep the wheels of progress turning.
International recognition
Excellence in education
Learner centered approach
Critical analysis and application-based learning
Comprehensive support for learners
Makes a student confident, reflective, engaged and an innovative learner.
| Cambridge Path | Grade-wise division | Age Group |
| --- | --- | --- |
| Cambridge Primary | Grades 1 - 5 | 5 - 11 years |
| Cambridge Lower Secondary | Grades 6 - 8 | 11 - 14 years |
| Cambridge Upper Secondary | Grades 9 & 10 | 14 - 16 years |
| Cambridge Advanced | Grades 11 & 12 | 16 - 19 years |
Develops knowledge and skills in core subjects
English
Mathematics
Science
Cambridge Global Perspectives
ICT starters
The Cambridge Lower Secondary Curriculum seeks to develop skills, knowledge and understanding in
English (First language)
Hindi as Second Language
French / Spanish as a Foreign Language
Mathematics
Science (Physics, Chemistry, Biology)
Social Studies (History, Geography, Civics)
Cambridge Global Perspective
ICT
At this stage, the student has the option of choosing subjects.
Cambridge IGCSE certification: There are altogether 70+ subjects, school may offer this in any combination.
Subjects being offered at Epistemo are :
| Group I | Group II | Group III | Group IV | Group V |
| --- | --- | --- | --- | --- |
| Languages | Humanities & Social Science | Science | Mathematics | Creative, Technical & Vocational |
| English | Economics | Physics | Extended Math | Accounting |
| Hindi | Environmental Management | Chemistry | - | Business Studies |
| French | History | Biology | - | Computer Science |
Epistemo Vikas Leadership school is a Cambridge affiliated school with the University of Cambridge. The Cambridge Assessment International Education is the world's largest provider of international education programs and qualifications for ages 5 to 19. Cambridge Assessment International Education is recognized by the Office of Qualifications and Examinations Regulations (Ofqual)- the regulator of examinations in England.
Very Good School, teaching is concept based, kids are able to learn fast because content can change but the concept remains the same. Teachers are excellent they know about the strengths and weaknesses of each and every child. I wish the school will grow and flourish more and more in the future.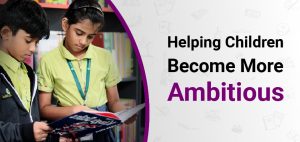 As parents, we always want what is best for our children and we also have their best interests at heart. We want our children to be motivated, curious, and eager to learn. We also want them to be ambitious because the amount of ambition that your children have, can determine their success in life.Some of...