Hosting Major Events and Seminars
A multi-utility seminar hall for seminars, symposia, and documentaries
Conference Hall
Epsitemo has designed a substantial air-conditioned seminar hall with an ample seating capacity to host major events and seminars. This multi-utility seminar hall has the most modern audio-visual equipment for quality presentations. The acoustics are exemplary and help in the clear transmission of sound to all corners of the building. It is the venue for faculty and students to make their presentations and organize seminars and symposia. Using modern facilities here, students are shown educational movies and interesting documentaries. Eminent Educationists, Litterateurs, Academicians, and Career Counsellors, as well as foreign dignitaries who visit the school, conduct several seminars and guest lectures here.
Very Good School, teaching is concept based, kids are able to learn fast because content can change but the concept remains the same. Teachers are excellent they know about the strengths and weaknesses of each and every child. I wish the school will grow and flourish more and more in the future.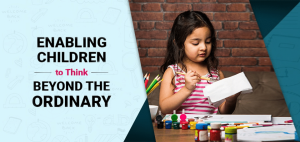 While learning using memory is a common way of teaching children in most schools, enabling children to think beyond the ordinary is not as common. However, it is imperative that children be taught to think creatively and beyond the ordinary, if they are to not only learn new skills but also apply them to everyday...