CBSE schools in Lingampally
Epistemo Vikas Leadership School is one of the prominent schools in Hyderabad located near the area of lingampally. The school bases its standards on comprehensive-centered education and commitment to foster its dedication to nurturing 21st-century skills. The school aims at being a center of excellence embracing the rich culture and heritage along with the development of students with academic excellence to face challenges at any level in their lives. It is one of the Best CBSE schools in lingampally that aim at offering a significant contribution to the society
Epistemo Vikas Leadership School is one of the finest CBSE schools in Lingampally to prepare students for both formal education and personality development. The school offers a CBSE curriculum that gives an ideal learning environment along with support and guidance to balance their aspirations with global prospects. Epistemo Vikas Leadership School has been ranked as one of the best CBSE schools in lingampally to provide a learning environment that not only focuses on developing inquiring, knowledgeable, and responsible young minds but also helps provide them opportunities to explore a wide range of academic and social skills. 
At Epistemo Vikas Leadership School, we strongly believe in the power of student-centric education. It helps our students to better align their personal and academic goals with new methods of learning. With new techniques and methods of learning, Epistemo school emphasizes the enhancement of skills based on the current needs of students. It is one of the excellent CBSE schools in Lingampally to provide opportunities for their students to build skills in collaboration and innovation, through project-based learning and work towards their individual development. The highly qualified and well-experienced teachers have put in a lot of effort to take learning beyond the classroom and to enhance their social skills, collaborative skills, emotional and mental skills which will sustain them for life. 
Why Choose

Epistemo

Vikas Leadership School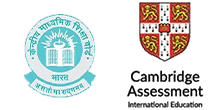 CBSE and Cambridge Curriculum
If you're looking for CBSE and Cambridge curriculum schools Hyderabad, then Epistemo Vikas Leadership Schools is your best choice. Students are prepared for the competitive world with International recognition - the globally acclaimed curriculum based on rigorous study of core subjects while developing real-life competencies.
30 Years in Educational Field
Holistic Learning Framework
Personality
Development
Entrepreneurship
& Leadership
Innovation
& Creativity
Universal Values
& Ethics
Sports Excellence
Academic Excellence
Skill Development
Community & Care








Ensuring Your Child Learns The 21st Century Skills
This fast evolving field is one of the mainsta-ys of the curriculum at VIKAS. Covering the areas of force, motion, mechanics & progra-mming, it also fosters other skills such as team-building, project management, critic-al thinking and logical analysis.
Creation and innovation are two major co-mponents that are at the heart of all the le-arning frameworks at VIKAS. Disruptive ideas and tech-savviness from early childhood ensures an enhanced IQ, that equips our students for the AI world of the near future.
Our campus is digitally driven with STEAM (Science, Technology, Engineering, Arts & Math) oriented advanced learning spaces that encourage free flow of ideas.
Holistic Education framework that will lead the innovation journey to entrepreneurship.